How To Get Off The Shelf
My name is Prosperity Carter. I have started this campaign seeking your support for my forthcoming project, a book and CD of my music. Your contribution will help toward publishing and promotional costs, including design, editing and printing.
How To Get Off The Shelf Collecting Dust is a reflective, inspirational book on how I went from a static to a dynamic position in my life after recovering from parental violence, sexual and partner abuse.
This book is an easy read demonstrating principles on how to recover from the above issues . My life's calling is to help others with their issues and motivate them to express their challenges in a creative form. Recovery is a process which requires support from many people. You can support me by making a generous donation toward the cost of this project.
This book will help persons suffering abuse in any form, including self abuse leading to depression and apathy. How to Get off the shelf collecting Dust will inspire action leading to a dynamic, joyful, healthy, holistic and love filled life. At this time, I am proud to say I am truly happy for the first time in my life. Praise be to God!
Excerpt From Manuscript: Draft #1

Preface
Stop wasting time doing nothing! Your dreams must be a priority! Do not look at them as unimportant. You must decide not to waste one second, minute or hour of your time sitting on the shelf collecting dust. You can transform yourself into something beautiful and I know you may not feel beautiful but life shows us beauty everyday minus the negativity but we must look into the mirror. The fact that you are breathing and reading my book shows that you have taken the first step toward change. You may be in a cocoon right now but you can transform into a beautiful butterfly gliding and soaring. I know you want change badly and the route that you are taking may be a challenge but just know that you can achieve your purpose if you never give up and cut off fear and doubt, the great enemies of yourself. You have to start making better choices and start visioning yourself already successful even though you cannot see the unseen. This is where faith is highly important to grasp.
How badly do you want success this year? There are many people out there who don't want anything out of life. They are ok with just being normal and settling to remain in the bumpkin patch waiting to be picked for Halloween. Are you that person who is content with nothing? When you settle for nothing, it eventually catches up with you. Then, you become ungrateful, resentful, hateful, and blame others because you refuse to blame yourself. It is your fault because you became too comfortable on the shelf!
How are you going to utilize your talents to contribute to the world? Are you going to withhold your talents from yourself and the world because of fear and doubt? Here are some guidelines that I came up with that has helped remove me off the shelf and may help you. To begin with, you must love yourself. I used to hate myself but now I love myself. I do not care what other people think about me and have learned to gain control of my feelings as I recovered my mental equilibrium. It is not about what people think about you. It is about what you are chanting in your head about yourself. If you truly loved yourself, you would not allow yourself to collect dust. Loving myself did not happen overnight but looking in that mirror and realizing I am beautiful helped transform my thinking. Likewise, you must shift your mindset and convince yourself that you have the energy, desire and faith to become successful.
You must let go of your past completely! Let it go! Cut it off! Curse the devil! "Get behind me Satan!" I know some things you will try to hold onto until the bitter end or until the end of the world. Don't be a Diehard battery. Forgive, move on and most of all grow from your mistakes. While I was trying to move forward, reflections of my past, guilt and shame kept coming up to haunt me. I hear voices in my head saying, "Oh, you can't do this and you can't do that, or how about you do it like this and do it like that." Rarely did I hear, "Oh wow that was great, I would love to support your work etc." I was so used to criticism that it became hard to distinguish who was being real versus who was not. I thought everyone was trying to down me until I learned how to take constructive criticism.
I know that we can get caught up in people's opinions and always seek validation. Start seeking validation from yourself! I know it is a challenge but you can do it! I realized success does not happen overnight. Too often we get so immersed in social media and other people's success not knowing what went on behind closed doors, or in the deep structure of their success.
Often I get exhausted trying to convince people they can be successful. It takes a lot of time and energy and it is very draining on my psyche. Nobody should have to beg you to be successful. Common sense should make you want a better future for yourself, children and generations to come. Think about the possibilities of your life off the shelf. How long will you continue allowing yourself to sit on that shelf collecting dust? Don't you see that dust piling up on you, covering years of doubt, fear, insecurities, shame, guilt and low self-esteem? There's so much dust on you we cannot see you anymore, where did you go? We think it is time to buy a new duster and begin again to clean yourself. Can you feel it? Can you see the dust falling off your body? Can you see it falling off your brain? Now you have your confidence back so hold your head up! You are off the shelf. Now run for your life! It is an emergency.
Excerpt #2: Human Tsunami Hits Tampa Black Expo
"Prosperity Carter, thank you for your powerful voice and spirit. You revitalized the hearts and minds of many during the Black Heritage Community Expo."
-Chantelle Daniels
Director of Black Expo
It is February 25, 2017 and today was the first day of the Black Expo. I was curious to see what the audience would look like and where my table was located. I was told to choose a table and check in and then started unloading my products. I placed two books on the table and did not finish setting up before people started picking up my book. I said, "Wow they are very interested to see what I have." So I told them please allow me to set up and come back.
After I set up people returned to my table. I showed them our Movement newspaper and told them that I was fundraising money for the Black Arts Movement 27 city tour and showed them my products. Before I read them my "On The Shelf" poem I dusted them off. Some people laughed and thought it was funny and others just looked at me with a weird expression. There expression said, "What the hell is she doing?" I said, "You will see after I read my poem why I dusted you." I got positive responses and the people were touched by the poem. Some people bought the book on the spot and some gave me a donation.
There was an open mic session, and when it was my turn on the mic I recited my poem On The Shelf:
Left myself on the shelf to collect dustThree years had gone byTime had flown by
Was not feeding my talents
Felt like I was going to die
Just didn't know why
Fear and doubt
Had me in a choke hold
Still struggling with the same things
Want to break free so bad
See the things I've never had
How can I do that?
When constantly in the box
Dark hole with nowhere to go
Afraid to express deep inner self
Worried about the next comment
It don't matter
The Lord knows my heart
Gave me my talents
Parts of me started to shed
At the same time
There was still a little fear
Know I'm almost there
Can feel it
Right in front of my eyes
So blind to my dream
In time
Will break free of this chain
Break free of this mentality
That dreams are not to exist
Will continue to work on changing my actions
Doing things different
Take initiative
Go beyond the unthinkable
Allow my spirit to get uncomfortable
See myself like never before
Being free from it all
No more talking
More actions
More receiving blessings
As of 2015 I declare that
I will no longer be on the shelf
Collecting dust
Before I recited the poem I went out into the audience and dusted them and then dusted myself. After I finished speaking people cheered and clapped for me while as I exited the stage. I made my way back to my table and started to pack . Then one more person purchased my book. I had a very successful day and anxiously awaited the second day of the Expo.
On day two of the Black Expo I checked in and set up at a prime location. Once I got set up people started coming. As I autographed my book more customers came. I was making a transaction with one person and then two other customers crowed around my table trying to get my attention curious about my books. It was a bit overwhelming but it felt great. I was very excited so I called my mentor El and shared my news. I was elated that every time I got on the phone a new customer would arrive. So I had to hang up and call my mentor back. I met an older lady who shared some of her life story with me. She said, "I just want to be free and I have a habit of every time when I want to move forward in life I always tend to move backwards. I lost custody of my kids and I'm trying to get them back."
I said to her, "You have a story to tell." Then I read her my poem,
The Enemy Is A Liar
Doesn't want me to be successful
Told me plenty of times
Would be forgetful
Don't exist
Drenched my flesh
Tried it's best
To keep me from being blessed
Wants me mad
Day and night
Don't want me to fight
For what is right
Can't feel whole
Attacks me soul
Loves when I look in the mirror
At my errors
Has a party
When I give in to those who judge me
Constantly calls me ugly
Reminds me of my past
Wants it to last
The pain
Flooding my brain
Puts suicidal thoughts in my head
Telling me again and again
How my life could end
Wants me dead
Dwell in negativity
Suffocate in self-pity
Just doesn't want to release me
From the box called misery literally
All of these years the enemy
Had my soul trapped in fear
Afraid of who I am
You want to know something enemy
I have been created differently
With a divine purpose
Treasure my years
Not just the moment
Keep on moving through it
Peeling apart what has been ruined
Shall no longer live in fear
For I trust in the lord
Who is always near
Filled with love and joy
I told the woman to repeat after me:
I love me
I am free
I can be all that I can be
No matter what no one thinks of me
I believe in me
You no longer have power over me
Goodbye enemy
She felt so inspired and said to me, "I promise that your words and inspiration will not go in vain." I said, "Thank you so much." Then she departed my table. Another woman arrived to share her story. She said, "I had an accident and went through the wind shield of my car." I was speechless because I had a fender bender but could not relate to her going through the wind shield. After I gave her some words of encouragement and she purchased my book. I thanked her for her purchase. I was filled with joy at being able to inspire her. She said, "I have been writing for years and I just have those books tucked away on the shelf." I said, "You have a story to tell and the time is now to tell your story." I gave her a hug and then thanked her again. It felt so good to give hope to these people.
When I was called to speak, I read an excerpt from my book. I heard people cheering me on as I was doing my reading and then I got the audience involved. I said, "If you can hear me say I!" Then they said I! Then I said, "I want you to repeat after me, "As of 2017 I declare that I will no longer be on the shelf collecting dust!" I said, "I can't hear you folks upstairs in the food court, I shouted!" The people upstairs responded loudly. Within seconds it felt like I had the entire mall's attention. I closed out my speech and said, "Thank you and God bless you all. Back at my table I gave out free books including the Black Agenda by Drs. Nathan and Julia Hare. As I packed, people came by my table to thank me and purchased my book. This event made me realize that all it took was for me to be confident in myself and take the right action. My dreams are an emergency and when you look at you dreams in that perspective that is when you will reap your harvest.
PERKSFor a $20 Donation:
You will receive an autographed copy of How To Get Off The Shelf Collecting Dust

For a $50 Donation:
You will receive an autographed copy of How To Get Off The Shelf Collecting Dust & an autographed duster

For a $100 Donation:
You will receive an autographed copy of How To Get Off The Shelf Collecting Dust, an autographed duster and CD

For a $1000 Donation:
You will receive an autographed copy of How To Get Off The Shelf Collecting Dust, an autographed duster, CD and T-shirt
Please click on the links below to view the full range of Prosperity Carter's many talents:
https://youtu.be/kFzU-qu7lbs
‌
https://youtu.be/PKntSdxk3zA
‌
https://geo.itunes.apple.com/us/album/overcoming-my-struggles-ep/id1002803435?mt=1&app=music
‌
http://www.smule.com/p/523289439_1100274214
‌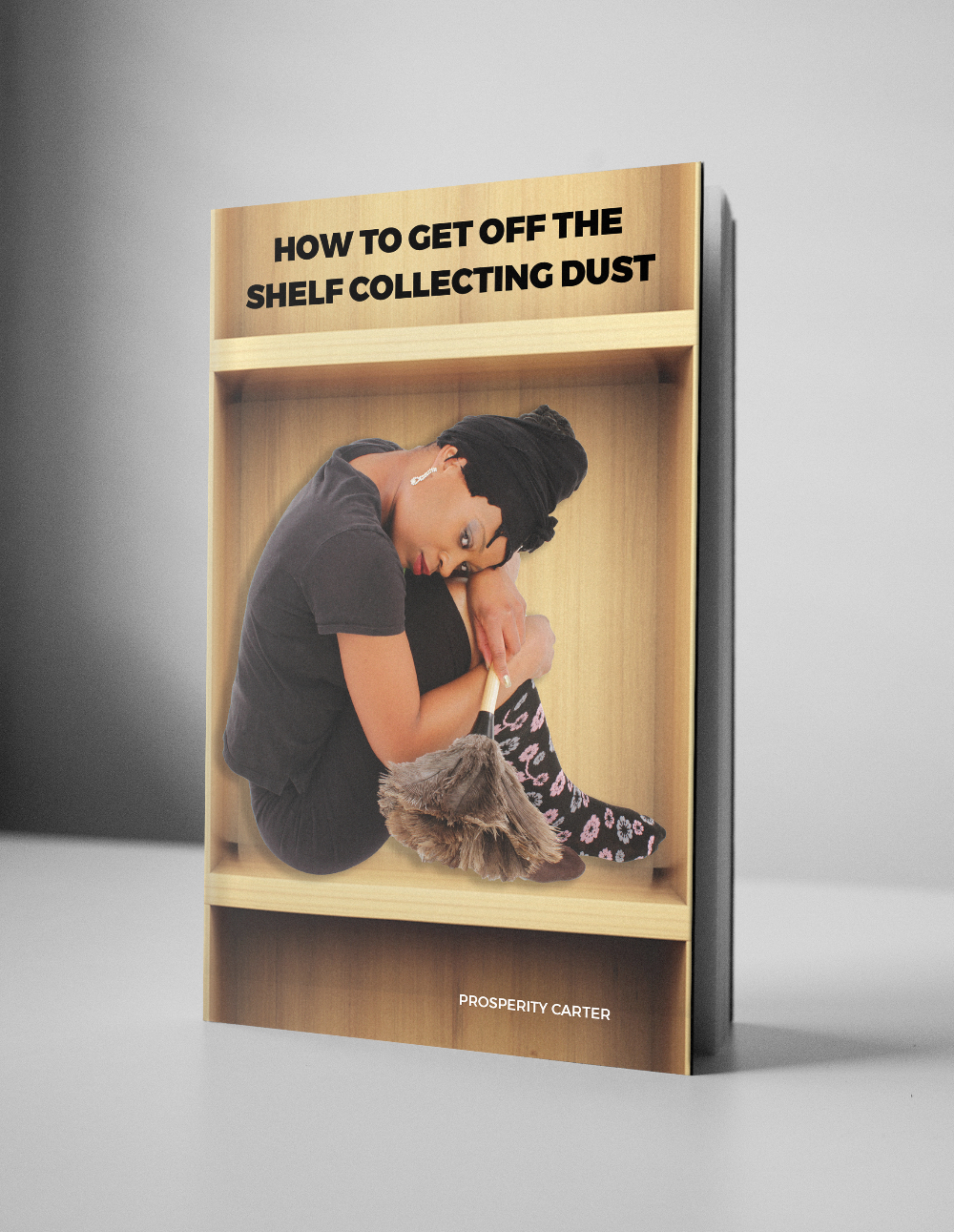 Budget For Estimated Project Expenses
Printing
2,000 books @ $5 per unit = $10,000
Editing Layout & Design
$3,000
Promotion
Advertising (newspaper, radio, posters, cards, mailing & handling, T-shirts, & bumper stickers)
$6,000
2,000 autographed dusters @ $1 per unit = $2,000
Book Tour
(Travel, lodging, car rental, food, & venue)
$7,000
DVD
(Studio recording time, post production, & duplication)
$3,000
Legal Fees
$2,000
Misc.
$2,000
Total Estimated Expenses For Project
$35,000
BIO
Prosperity Carter is a poet, author, rapper, dancer, vocalist and associate editor of The Movement Newspaper. She grew up in Queens, New York and attended William Cullen Bryant High School. In 2011 she published a book of poetry I'm Already Famous. Her work appeared in the anthology Stand Our Ground: Poems For Trayvon Martin & Marrissa Alexander, Ed. Ewuare X. Osayande. At nineteen Ms. Carter was given her own column in the Oakland Post News Group. She performed throughout the Bay Area and Northern California with the living legend, Black Arts Movement co-founder, Marvin X. In May 2017 Ms. Carter will study at the University Of Ghana. While in Africa she will be on assignment for the Oakland Post News Group and The Movement Newspaper.
Help spread the word!