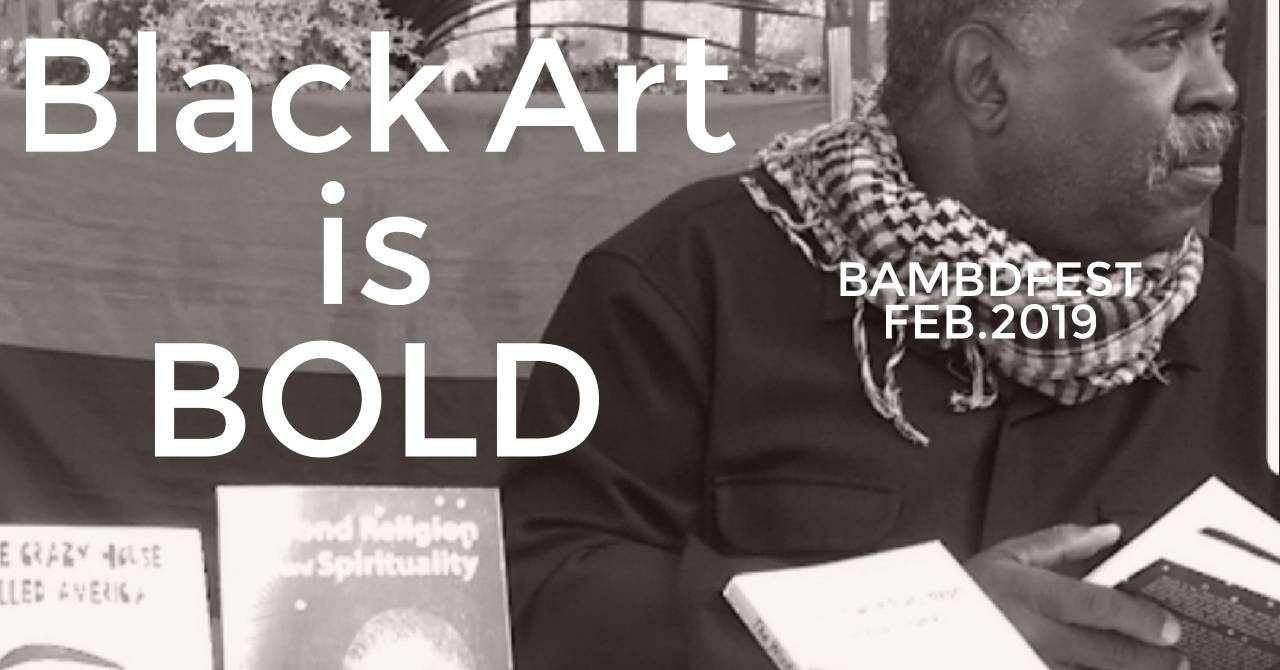 Marvin X Tour 2019
February 16, Sat
Alameda CA
Reading/ book signing
Back 2 Nature Wellness Salon
and Barber Shop
475 Central Avenue
3-6pm
February 22, Friday
Reading book signing
Hunters Point, San Francisco
5:30-7:30
901 Fairfax Avenue
February 23, Saturday
Oakland
Reading/book signing
BAMFEST
Marvin X reading at Charles Wright Museum, Detroit MI, December 15, 2018. He has been invited back at another venue for Black History Month
photo Leona McElevene
February 28, Thursday
Detroit, MI
TBA
March 2, Saturday
Reading/book signing
Philadelphia PA
Brothers Network
TBA
May
Reading/book signing
Seattle WA
Host Hakeem Trotter
TBA
August
National Black Theatre Festival
Winston-Saleem, North Carolina
TBA
October
Austin, Texas
How We Got Ova 1619-2019
A poetic myth/ritual dance drama
by El Muhajir, aka Marvin X
"In the Atlantic ocean is a railroad of human bones...."--Amiri Baraka
Riding waves bout to go under
Let da ocean wash us with love
We connect the bones of Baraka's railroad
train rides down into darkness
where no light is needed.
The X Men: Marvin X, son Marvin K, grandsons Jordan and Jahmeel
Dear Black Folks,
Stay out of white folks bizness. They stay out of our bizness in the hood, even though they supply the guns, dope, sick religion, . mis-education, toxic food, water, air; death music rap beats, perverted psycho-sexuality of do yo thang, be what ya wanna be; totally insane political policies that violate their own laws at the drop of a hat, e.g., sanctuary cities and states. Imagine what white folks would do if we declared the hood a sanctuary space that excluded Europe American entrance and jurisdiction and banned them from arresting North American African criminals for any reason without our consent. We establish and adjudicate
all violations in our space. Imagine this!
Stay out of white folks bizness. They suffer a malady far worse than white Supremacy. Our ancestors and elders called their condition white lunacy.
Let them fight among themselves. Let them have their second Civil War. That's their bizness not ours. Our business is to establish a sovereign, independent nation.
The master and slave do not have the same agenda.
Poet/Essayist/Educator/Activist Marvin X after his lecture/discussion in Davey D's Hip Hop class at
San Francisco State University, Marvin X's alma mater. He was a founding member of the Black Students Union.
photo Davey D
Notes of Artistic Freedom Fighter Marvin X
Poet, playwright, essayist, educator, activist
University of Chicago, 2015